MPC Systems manufacture our own mezzanine floors and specialise in office and industrial fit outs.

Our team of experienced staff are dedicated to providing a professional and reliable service from design to installation.
MPC have built a reputation for completing projects to budget and on time delivering a high quality of workmanship allowing us to create long lasting relationships with our customers and suppliers......
What We Do....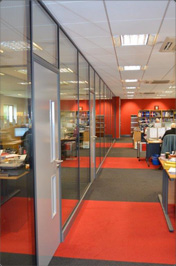 MPC Systems manufacture our own mezzanine floors and specialise in industrial fitouts taking the stress away from our clients, offering expert advice on design, money saving solutions and building control applications.
Having a wealth of experience in the industry mpc systems listen carefully to our clients requirements, put together a detailed design solution and put the project to site with the minimum amount of disruption.
MPC Systems pride ourselves on making life easier for our clients.......
Mezzanine Floors
MPC Manufacture our own Mezzanine floors and are designed to suit the individual needs of our customers. Column grids can be as large or small as required to optimise your operational requirements whether that be an increase in Production, storage or office space. Mezzanine floors can be single tier, two tier, three or even 4 tier.
Interior/Commercial Fitouts
MPC Systems strive on a challenge and have created solutions for many clients. MPC can transform many enviroment to our client's requirements and have a dedicated team of experienced joiners to carry out works…
MPC Systems specialise in:
Mezzanine Floors, Partitioning, Ceilings, Stainless Steel/Glass Balustrade, Moveable Partitions, Carpets/Flooring and Decorating
Industrial Partitions
Steel and mesh partitions are installed by MPC for a number of applications. Whether for secure/high valuable enclosures. High flammable areas or sound enclosures. Or just for added durability in industrial areas.
Partitions are available as single skin, double skin and mesh. The double skin steel option can be fire rated to thirty minutes or one hour.
Self supported suspended ceilings, steel or mesh roofs can be installed to 'cap' the enclosure.
Racking - Pallet Racking solutions for your business
Easily installed, cost-effective and versatile. Adjustable beam racking is the most widely used of pallet storage systems and allows direct access to each pallet stored.
By selecting from a wide range of sizes and duties for standard frame uprights and beams, Palletstor racking can be configured to meet precise criteria in terms of load volume and weight, accessibility, handling requirements and space utilisation.
Palletstor pallet racking in its standard form provides safe, cost-effective storage for many different kinds of goods and materials. But for increased versatility Palletstor also offers a range of practical add-on accessories to make the storage and handling of goods even easier.
Shelving
A storage system for every working environment.
Wherever there's a need for storage, there's a job for Stormor Euro Shelving. From stand alone single units to multi-level storage bays, Stormor Euro Shelving is the single, simple-to-use, versatile solution.
The ultimate versatile heavy duty storage system, Longspan shelving is limited only by your imagination.
High-density Storage – up to 300% more space than traditional solutions.
Automotive Storage
Every motor trade application, from small service areas to complete parts distribution centres can benefit from our comprehensive range of Automotive Storage Solutions. Combining tried and tested products, such as Longspan and Stormor Euro shelving, with a number of specially designed components our range provides:
- Fast, easy access to tools and components, boosting productivity
- Effective stock control and monitoring
- Maximum use of available space,
improving the working environment and reducing overheads.